The second heat of the 2014 Heavyweight Championships. This battle only had  two robots fighting and no House robots were involved. This battle also featured two veterans from the television show, Storm 2 and Kronic. Interestingly Kronic has no rubber spikes nor a face painted on the flipper.
Competitors
Edit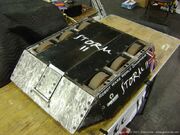 vs
The Battle
Edit
Storm 2's speed was the advantage it got against Kronic however it was unable to push kronic around. Storm 2 got onto the flipper itself and Kronic flips Storm 2 away almost landing out of the arena. Storm 2 ends up stuck in the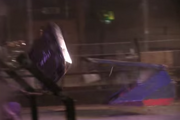 corner for a second before freeing itself and attempting to get away however now Storm 2 was on its back making the ground clearence high enough for Kronic to get underneath and flip. Storm 2 attempts to push kronic but ends up getting flipped once again. Kronic flips Storm 2 a third time, but Storm 2 is defiant and tries to shove kronic. Storm 2 runs away hoping to get Kronic by the side where it can't flip Storm 2 however Kronic turned quickly and chucked Storm 2 out of the arena. Kronic spins in delight and comedically flips itself over.
Winner: Kronic
Watch here
: