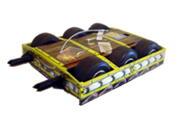 Das Gepäck was a Dutch competitor robot that ran on 36V at 20mph and was armed with a pair of ramming spikes at the front. It had six wheels and was invertible. The name was German and actually translated as "The Luggage". Das Gepäck fought in the second series of Dutch Robot Wars, and also represented Germany in the UK vs Germany Special filmed during UK Robot Wars Series 6, where it Drew in the final against UK robot Fluffy. Notably, outside of Robot Wars, Das Gepäck fought in the 2007 UK Championships, falling in the heats.
2003 European Heavyweight Championships
Edit
Das Gepäck was involved in a battle with Ansgar and former UK champion Tornado. The battle was slow-paced, as is expected of a battle between three rammers. Tornado suprisingly broke down, leaving the other two robots pushing and shoving eachother until the end of the battle. It is currently unknown who won the Judges' Decision.
2007 UK Championships
Edit
Das Gepäck was in Heat E of the Championship, and was placed in a three-way melee with the number 3 seeds Kan-Opener and Thor. The battle went poorly for the Dutch machine, whilst it was able to withstand several hammer attacks from Thor, it was ultimately defeated after it was grabbed by Kan-Opener and dumped in the pit, eliminating it. With Thor losing in similar fashion, Kan-Opener was declared the winner. However, Das Gepäck was given a second chance as it was placed in one of the Losers' Melees, where it was placed up against Tough As Nails, Velocirippa and Envy. Das Gepäck was able to stay out of most of the action early on, but after Envy has managed to flip Tough As Nails out of the arena, Envy turned its attention to Das Gepäck, and fairly swiftly managed to flip Das Gepäck onto the arena side wall, on its side, where it was unable to bounce down due to its broad sides. Das Gepäck was deemed immobilised, eliminating it from the competition, allowing Envy and Velocirippa to progress to the next round.
Wins/Losses Record
Edit
Wins: 0
Losses: 2
Joint Winner of UK vs Germany Special with Fluffy
Community content is available under
CC-BY-SA
unless otherwise noted.