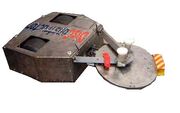 Disconstructor was a grey invertible robot armed with a horizontal spinning disc. It was entered into Series 7 and Series 8 of Robot Wars, but fell in the first round after it drove into the pit of its own accord. Disconstructor later made a one-off appearance in the 2006 UK Championships held by Roaming Robots. The robot has since been retired from combat for now.
Disconstructor was placed in Heat E of the competition, and its first qualifying battle was against Hammerhead 3, the successor to a robot that Disconstructor had fought in Robot Wars. In the battle, Disconstructor started off slowly getting its disc up to speed, where Hammerhead 3 took advantage by ramming it head on and flipping it up, this scenario repeated itself several times during the battle, with little retaliation from Disconstructor. At the end of the battle, both robots were still mobile, but the judges went in favour of Hammerhead 3. In its next battle, Disconstructor was put up against the 6th seeds Merlin, here, Disconstructor got its disc up to speed quicker, but Merlin got round the side of it and flicked it up, but failed to flip it over due to the disc keeping it the right way up. Disconstructor was unable to get much of a purchase on Merlin with its disc due to the seed's agility. Merlin continued to flip Disconstructor around the arena, eventually flipping it on its sides up against the arena wall, where it couldn't self-right. Discontructor was deemed immobilised and lost the fight. Disconstructor was also due a qualifying battle against Hannibal, but regardless of the outcome, Disconstructor hadn't got enough points to progress to the finals, the heat winner instead being the seeded Merlin. This was Disconstructor's last UK Championship appearance until the 2016 Series.
Community content is available under
CC-BY-SA
unless otherwise noted.