Explosion

Participation Information
Team Information
Team
Invade
Team Members
Michael Oates and Adrian Oates
Robot Statistics
Weight
13.6kg
Power
12v Geared Motors
Weapons
Flipper

Robot statistics correct as of its most recent appearance on the show
Explosion is the third featherweight created by the Invade team, the heavyweight Eruption is based on Explosion. Explosion was created in 2008 and ever since has had huge success. Just like Eruption it has been caught up in the Eruption/Beast rivalry but in this case it's against Beauty not Beast . 
Live Events
[
]
Explosion has been successful in the championships it has entered for example in the 2011 featherweight championship it came runners up and in the 2015 World Championship for featherweights it managed to to become champions.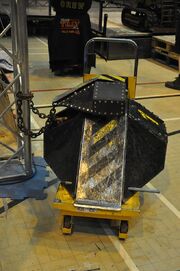 One of Explosion's first major success was winning the featherweight tag team championship of 2009. After that it fought in the 2011 UK Championship in which it lost in the grand final but in a very close and well fought battle. The same happened in 2012.
In the 2015 World Championships, Explosion flew through the rounds and Quarter finals, it reached the Semi-Finals where it met Beauty 8 and simply chucked out in a matter of seconds. The Grand Final saw Explosion against Beauty 2 where at first it seemed Beauty was on top however just like Beauty 8 it was flipped out of the arena, making Explosion the World Featherweight Champion. 
Explosion has fought minor live event battles and has survived most of them without interference from other machines or house robots Matilda or Olly (sometimes even Major Damage !) Unlike the championships Explosion has been caught out a few time and flipped out by other flipper robots or has accidentally driven into the pit.
Honours
[
]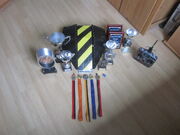 *Tag Team Champions 2009
Runners-up in the 2011 UK Championship
Runners-up in the 2012 UK Championship
World Championships 2013 Champion
World Championships 2015 Champion
Featherweight Robots
Minimoth

•Explosion•

Tiny Hurtz

•

Beauty

•Dinah•Small Cheese•Speed Wave•

Mini Mighty-Mouse

•Venom•

Wedgie

•

Tiny Toon

•

Rip-off

•

Mr Mangler

•

Barbaric Bruce

•

Micro Mute

•

Little Hitter

•

Toonimator

•

Conker

•

Little Nipper

•

Drumroll

•

Galactus

•

Massacre

•

Valkiri

•

No Toy

•

Reaver

•

Hannibalito

•

Rabid M8

•

Spur

•

Hardwire

•

Satanix

•

Hatchet

•

Endeavour

•

Richie

•

Tormenta

•

Scruffy

•

Disturbance

•

Defector

•

Devil's Coach Horse

•

720

•

Boneyard

•

Shard

•

Catharsis

•

Legion

•Banana Overdrive•

Twisted Sister

•

Ironside

•

Thumper

•

Clank

•

Night Fury

•

Predator

•

Killer Joule

•

Spartan

•

Loki

•

Decimator

•

DB10

•

Glutton

•

NST

•

Cannon Fodder