Hannibal

Participation Information
Years Active
2002-2007
Team Information
Team
Team RCC
Team Members
Leo Van Miert

Mario De Jongh Babeth Van Son Niels Schotten Rick Mass

Other Entries
RCC2

Tomahawk Splinter Brutas

Robot Statistics
Weight
100kg
Dimensions
44cm x 79cm x 79cm
Top Speed
8mph
Power
2 x Litton motors each running on 800 watts powering its 2-wheel drive
Weapons
CO2 Flipper

Robot statistics correct as of its most recent appearance on the show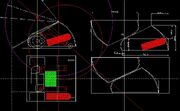 After it failed to qualify in Series 7 and the show being cancelled, Hannibal was sold to Leo van Miert of Team RCC in the Netherlands. At first the robot had a lot of reliability issues due to the fact that the ESC's and the 40MHz system caused a lot of interference. This was resolved by switching from 4QD to a Robotpower Sidewinder dual motor ESC and some time later improving on that by the use Spektrum DSM 2.4GHz. After several events the original weapon system was replaced by a more efficient system consisting of a 80mm bore custom made ram and adding a buffer tank. With this setup it made 4th place in the European Championships in Utrecht after losing to Kan-Opener.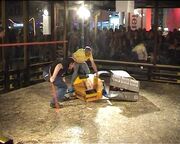 After the damage the robot was redesigned to be lower (300mm vs 435mm) and have a new flipper arm. This lower machine had a better layout to flip robots out of the arena (oota) which the previous setup could never do because of the flex in the arm.
This edition called Hannibal mark 1.3 competed in several dutch events. It then competed in the Roaming Robots event at the RIAT airshow in Fairford. The gearboxes developed an internal failure which caused the by then hard to replace Litton motors to stall and break and burn out the ESC. It was then decided to retire Hannibal and re-use some parts in other robots.