Harry was a robot which competed in the 2003 European Heavyweight Championships. Little is known about the robot, but it appeared to be two-wheel-drive and invertible. It was also probably armed with a stationary spike or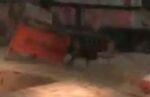 perhaps a small cutter.
2003 European Heavyweight ChampionshipsEdit
Harry only battled once in the championship against Bamm Bamm and Tsunami. In 
this battle, it failed to move and was pitted quickly. Tsunami was the eventual winner, having stranded Bamm Bamm on it's back.