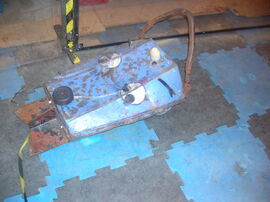 Mighty Mouse
was a robot created by
Team Mouse
that competed in the Roaming Robots events. It was a small rambot armed with spikes at the front which had fast speed,around 30 mph. It was a modified version of the original
Velocirippa
after it was badly damaged by Disc-O-Inferno. Mighty Mouse was successful in Robot Wars as it reached the heat semi final in Series 6, losing to
Dantomkia
via being flipped out of the arena, and the heat final in Series 7 before losing to Thermidor 2 via judges decision.
Mighty Mouse is now retired and now only attends Roaming Robots events for static display. Trevor Wright does however compete with a much more improved version called Meggamouse which was built of parts from the second model of Velocirippa.
2004 UK Championships (Winter Tour)Edit
Mighty Mouse took part in the 2004 UK Championships where it fought Chompalot at Newport where it lost on a judges decision and Storm 2 in Worcester also on a judges decision.
2006 UK ChampionshipsEdit
Mighty Mouse took part in the 2006 UK Championships at Wicksteed Park in Kettering where it shared its pod with no. 3 seed Tanto,Tilly 1O1 and CTRip. CTRip unfortunatly pulled out and Mighty Mouse along with the other 3 robots which meant they had to fight it out in a melee. Tanto broke down in the fight and Mighty Mouse managed to win the fight after causing more damage to Tilly 1O1.
Mighty Mouse had the points it all needed to qualify for a place in the finals where in the first battle, it met 8465T in the first round. It was thrown around the arena by Beast's flipper where it always kept rolling back on its wheels until it landed on its side and for some reason didn't right itself and was elliminated.
2006 Winter TourEdit
Mighty Mouse also took part in the 2006 Winter Tour where it only took part in one qualifier match at Doncaster where it took on the reigning UK Champions Turbulence. Mighty Mouse got thrown around the arena before eventually getting thrown out the arena.
2007 Winter TourEdit
Mighty Mouse took part in the 2007 Winter Tour, It took on Tiberius 4 and TillyEwe 2 in its first qualifier at Doncaster where it failed to make an impact and ended up in the pit. Next it lost to Envy at Portsmouth and was beaten again by Dantomkia at Nottingham.
2008 UK ChampionshipsEdit
Mighty Mouse took part in the 2008 UK Championships at RAF Fairford where it only took part in one battle. It faced no. 2 seed Terrorhurtz which classed Mighty Mouse as an underdog. It was walloped by Terrorhurtz before eventually getting immobilised and then pitted which elliminated it. This was also Mighty Mouse's last ever fight before it retired.
Win/Loss RecordEdit
Wins: 1
Losses: 7