Obsidian

Participation Information
Team Information
Team
RCC
Robot Statistics
Weight
96kg
Top Speed
9mph
Power
24v Electric motors
Weapons
Axe

Robot statistics correct as of its most recent appearance on the show
Obsidian was a robot with a large battle axe as it's main weapon.It competed in Robot wars under the same name. The first version of Obsidian was originally built in 2001 by Phil Upton from Derbyshire until it was sold to team RCC who rebuilt it.
Robot Wars
Edit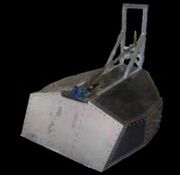 To qualify for Series 5, Obsidian defeated Hammer & Tong and
Storm Force
in the qualifiers. It first appeared in heat A of Series 5 against S.M.I.D.S.Y where it had lost its only fight where it was immobilized then bullied by the house robots.
After Series 5, Obsidian was repaired and improved for the Series 6 qualifiers, but the team ultimately did not attend the qualifiers, feeling their robot was not ready. The team did apply to enter Extreme Series 2, but were not asked to compete in any of the tournaments. They intended to enter Series 7, but it is unknown if they attended the qualifiers.
Live Events
Edit
It was then sold to another unknown buyer who had it in his care for many years but only made one appearance at a charity event. In 2007, Obsidian was sold again, this time to Team RCC who first fought with it in the 2007 UK Championships where it placed second in its pod. This version was the rebuilt version which got rebuilt in 2008 to be a lot more smaller and have a more powerful axe. Obsidian in this presence also made the finals of the UK Championships in 2008 losing out to Iron-Awe 5 . In 2009, Obsidian retired after taking a lot of damage from Kan-Opener at a DRG event at Zandvoort. Obsidian had a very powerful axe that was originally powered by Nitrogen but it was changed to CO2 which certainly was aggressive against other robots that it met. However, they have since retired the machine after it failed to perform.
Community content is available under
CC-BY-SA
unless otherwise noted.