Pressure
is a silver wedge-shaped robot built by
Team Wind-Power
, it feautured on Robot Wars Extreme 2 in the New Blood Tournament where it was armed with 2 lifters and an axe and got beaten by Cedric Slammer in its heat final. The team also tried to qualify for Robot Wars Series 7 which was more improved but didn't make it. The next version just had a flipper and was armoured in polycarbonate which retired in 2007 after the punishment it kept taking from robots like
Kan-Opener
and
Terrorhurtz
and this was replaced by the new one which is seen today.
UK Championships 2005 (Winter Tour)
Edit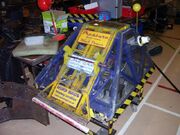 Pressure participated in the 2005 UK Championships with the 3rd model made by Team Wind-Power. It lost its first fight at Portsmouth to Taurus after it drove itself down the pit and then took on Robot Wars World Champion
Storm 2
at Birmingham. Even though Pressure managed to flip Storm 2 twice, Storm 2 was the more controlled and it rammed and immobilised Pressure.
2008 Winter Tour
Edit
Pressure has also participated in the 2008 Winter Tour of Roaming Robots. It beat Chompalot in its qualifier match at Nottingham which enabled it to qualify for the finals at Maidstone. It immobilised 8465T after flipping it where it couldn't self-right and was disposed of down the pit by Major Damage but unfortunatly it lost its quarter-final battle on a judges decision to Dantomkia on just one point.
2009 UK Championships
Edit
Pressure signed up to the year-long 2009 UK Championships. In its first qualifier match, Pressure met the team's own White Knight which beat it on a judges decision where both robots flipped each other around the arena. Next at Brentwood, it took on Meggamouse but it lost on a close judges decision. Pressure then went to Portsmouth where it lost its battle to St Hammer.
2010 UK Championships
Edit
Pressure also took part in the 2010 UK Championships, it lost its fight at Whitwick to Iron-Awe 6 and lost its next fight at Nottingham to the 2nd seed Big Nipper, Pressure currently has 3 points in the league table results.
Wins: 3
Losses: 7
Robot Wars Extreme 2 - New Blood Heat Finalist
Robots Live! - Hemel Hempstead 2007 Winners
Robot Rumble 2008 (Colchester) Winners
Robots Live! - 2nd at Huddersfield 2008
Roaming Robots - Portsmouth 2008 Winners
Community content is available under
CC-BY-SA
unless otherwise noted.