Sewer Snake

Participation Information
Team Information
Team
PlumbCrazy
Team Members
Matt Maxham and Wendy Maxham
Robot Statistics
Weight
100kg
Top Speed
20mph
Power
Magmotors powering its 6-wheel drive
Weapons
Lifting forks and a flamethrower

Robot statistics correct as of its most recent appearance on the show
Sewer Snake was a six wheeled robot with 2 flippers and a flamethrower.It's first flipper was rear hinged,while the second is front hinged. Team PlumbCrazy has held an unprecedented stranglehold on the U.S. large combat robot classes. At one time Matt and Wendy Maxham's stable included the #1 ranked heavyweight (Sewer Snake), the #1 ranked middleweight, and the #3 ranked lightweight. Sewer Snake's record: 66 wins, 22 losses. It has been notified in the robot hall of fame.
Time in competition
It has fought in a lot of the RoboGames and Combots events and always has a good success rate reaching the final four. It entered the Fighting Robots UK Championships 2006 where it fell in the group stages to Beast and Kan-Opener. Sewer Snake has a very powerful 6-wheel drive which is perfect for pushing other heavyweight robots and its lifting mechanism can flip itself over.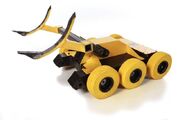 Recently the team has entered the new Battlebots 2015 with Stinger:The Killer Bee. It fought Shedernator, a full body spinner, and won by tipping it over. 
Honours
RoboGames 2005 Gold Medalist
RoboGames 2006 Silver Medalist
Fighting Robots International Challenge 2006 Semi-Finalist
RoboGames 2007 Gold Medalist
RoboGames 2008 Bronze Medalist
RoboGames 2009 Bronze Medalist
RoboGames 2010 Gold Medalist
RoboGames 2011 Gold Medalist
RoboGames 2013 Silver Medalist