Storm Force

Participation Information
Team Information
Team
Scot-Bots
Team Members
Liam Bryant & Tony Smith
Robot Statistics
Weight
97kg
Power
2 x Electric motors running on 400 watts
Weapons
Scoop and axe

Robot statistics correct as of its most recent appearance on the show
Storm Force is a Barrel shaped robot that made its debut in Widnes in May,2013.It had a scooped flipper and an axe in the back. It competed in Robot wars: Series 5,but lost in the first round to Chaos 2.It now resides in its new owner's shed.
Robot Wars
[
]
Storm Force had an unlucky draw in Series 5 as it was up against the two-time and reigning UK Champions Chaos 2 in Round 1. Storm Force was on the back foot straight away in its battle, as Chaos 2 flipped it numerous times, but the barrel shape meant that Storm Force kept rolling back onto its wheels. It then started to gush smoke and was flipped into Matilda's flywheel. Chaos 2 then flipped it again and Storm Force stopped moving, it was then flipped onto the Pit of Oblivion which Chaos 2 then lowered by pressing the pit release button, sending Storm Force out of the competition.
Live Events
[
]
For 6 more years after, Storm Force went into retirement until it was sold to John Findlay of Roaming Robots in 2007, but because John had a busy schedule at his show, he had to rely on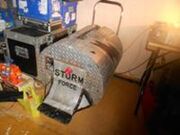 different drivers to take turns in driving it so he sold Storm Force again in 2008 this time to Scottish roboteer Liam Bryant where it was given to him as a Christmas present. Storm Force is a well known robot out in the circuit today and is known for its low-centre of gravity combined with its cylindrical shaped body which allows it to roll back on its wheels if it gets flipped.
It fought in a robot rumble managing to defeat Dantomkia along the way. Storm Force fought in the 2009 Heavyweight Championships it was against Meggamouse. It put up a good fight but was ultimately defeated in a judges decision. Storm Force was seen once again in 2010 in Edinburgh where it was against Kronic and Big Nipper where it was made immobilized by the first flip Kronic made. It made appearances in Edinburgh in 2011 and 2012 before making an appearance in more bigger scenes such as Barnsley in 2013 where it fought the likes of The Saint and Toon Raider. It fought in a rumble but it was ganged up by Ripper , Meggamouse, The Saint and Rattler.
In 2013 it competed in the tag team along side Maelstrom and Cherub , the team had success getting to the final however they met their match against Rattler, Ripper and Behemoth. Cherub was chucked out and Storm Force was immobilized leaving Maelstrom to fight on, he only managed to pit Ripper but lost on a decision.