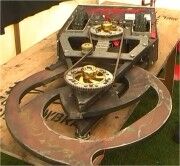 Swarm is a heavyweight competitor robot that has been entered into Roaming Robots competition. The robot was invertible and was armed with a large horizontal spinning weapon, capapble of a lot of damage. Swarm was originally built by Team Typhoon, the Edinburgh-based team that had previously built such robots as Typhoon (the 3 times Robot Wars Middleweight Champion) and Typhoon 2 (the Robot Wars Series 7 Heavyweight Champion). Swarm was due to enter the 2006 UK Championships, but has not been seen since then.
2006 UK Championships
[
]
After missing the 2004 and 2005 championships, Team Typhoon returned to fighting with their new machine for the 2006 UK Championships. Swarm was due to participate in Heat I of the competition, and due to fight the third seeds Behemoth, Alien Destructor and Killer Carrot 2. However, before the battle began, Swarm was suffering from technical difficulties, and was forced to withdraw from the heat, and subsequently the competition. The three other competitors continued the battle as a three-way melee, with Behemoth coming out as the eventual heat winner. Swarm hasn't been seen since this withdrawal.