Tanto

Participation Information
Team Information
Team
Danby
Team Members
Craig Danby and Chris Danby
Robot Statistics
Weight
92kg
Top Speed
27mph
Power
2 x Electric motors running off 5HP powering its two wheels.
Weapons
Wedge-shaped prongs for ramming and pushing.

Robot statistics correct as of its most recent appearance on the show
Tanto is a competitor that competes in the Roaming Robots events today, it is basically a small rambot on 2 big wheels with a wedge at the front. Tanto was built in 2003 for Robot Wars Series 7 but it never made it in the qualifiers where it has changed a little bit since then. It doesn't look like a competitor that can win UK Championships but it did manage to qualify for the UK Championships 2005 finals.
2005 UK Championships (Winter Tour)
Edit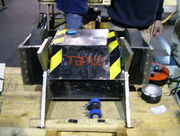 Tanto took part in the Winter Tour 2005 where it took on
Behemoth
in its first qualifier match at Portsmouth and lost after getting flipped about and rammed all over the place. But it was the more aggressive in its next qualifier against Ewe 2 which enabled it to not only win, but to qualify through to the finals at Folkestone.
In the first round of the finals at Folkestone, Tanto met Behemoth again and got flipped about all over the place just like when they met at Portsmouth. This time Tanto landed on its side and was elliminated.
2006 UK Championships
Edit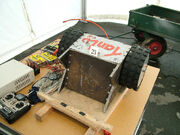 Tanto came back for the UK Championships 2006 as the 9th seed where it shared its pod with CTRip,
Mighty Mouse
&
Tilly 1O1
. CTRip had to pull out so all 3 robots instead of fighting in a league system fought in a 3-way melee. Unfortunatly Tanto broke down and was elliminated.
After getting beaten in the UK Championships, Tanto also feautured in the Annihilator with Dantomkia, Spike, Iron-Awe 3, Kan-Opener and Disconstructor. It survived round 1 after Disconstructor got stuck on the arena wall and couldn't get down. Next it was instantly 5 robots to 4 as Iron-Awe 3 pulled out due to a technical problem, Tanto again ducked and dived. It got targetted by Kan-Opener at one point who tried to put Tanto in the pit, but was pushed backwards and went in itself instead. Next it survived Dantomkias flips and neatly dodged Spike's axe but when Dantomkia threw Tanto against the wall which took out its link in the process, it was all over.
2010 UK Championships
Edit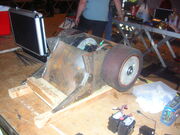 After a 4 year retirement, Tanto made a comeback as a new model in the 2010 UK Championships. It had problems with its mobility in its first qualifier match at Barnsley and lost to the top seed Maelstrom, and also lost its next fight at Whitwick to Ripper Evo. Tanto currently has 6 points in the league table.
Win/Loss Record
Edit
Wins: 3
Losses: 6
Community content is available under
CC-BY-SA
unless otherwise noted.