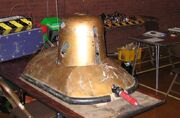 Terminal Ferocity
is one of the oldest robots that competes in the Roaming Robots events today, it is shaped like a submarine and painted gold. It was built for Robot Wars Series 3 where it sported a chainsaw on the crows-next as its weapon, but it was beaten in the first round by Facet. In 2005, Terminal Ferocity was re-built for Roaming Robots, it had a front spike that went in and out as its weapon, but this was never effective against today's robots or those that have evolved. Terminal Ferocity returned for the 2011 UK Championships, now armed with a High Pressure Flipper and has a re-vamped shell.
2005 UK Championships (Winter Tour)
Edit
6 years after it appeared on Robot Wars, Terminal Ferocity, re-designed, came back for fighting, for the 2005 Winter Tour. However, Terminal Ferocity had already missed out on most of the qualifying rounds for the tournament. Terminal Ferocity was placed up against Merlin at its first qualifier match at Portsmouth. In the battle, Terminal Ferocity didn't last too long, as it got flipped over very quickly by Merlin. Terminal Ferocity was unable to recover, and subsequently lost the battle. In the next qualifying round, Terminal Ferocity was placed up against the number 2 seeds Big Nipper. In this battle, Big Nipper immediately used its lifting jaws to turn Terminal Ferocity over, before pushing the latter into the pit of oblivion. Subsequently, Terminal Ferocity hadn't won any points to go through to the finals at Folkestone, meaning it was eliminated from the competition.
2011 UK Championships
Edit
Ano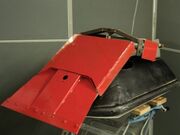 ther 6 years later, and Terminal Ferocity returned to take part in the competition. It was drawn up against the first seeds
Iron-Awe 5
,
Scott 2
and
Tough As Nails
. Before the battle, it was revealed that Scott 2 was unable to compete, so it was automatically eliminated from the competition, the other three machines were forced to fight a three-way melee. In the battle, Terminal Ferocity managed to flip Tough As Nails over very quickly, but then suddenly seemed to break down, as the other two competitors continued fighting, although its flipper was still working. After Iron Awe 5 nearly flipped Tough As Nails out of the arena, the former turned on Terminal Ferocity, flipping it up to the arena wall, before leaving it alone again. Iron Awe 5 and Tough As Nails then continued fighting, but began their own pushing match, as they slowly approached Terminal Ferocity again. Then, Iron Awe 5, with the help of Terminal Ferocity's flipper, managed to flip out Tough As Nails. Iron Awe 5 then turned on Terminal Ferocity, flipping it over, onto its side, and eventually out of the arena, eliminating Terminal Ferocity from the competition.
Win/Loss Record
Edit
Wins: 0
Losses: 3
Community content is available under
CC-BY-SA
unless otherwise noted.