Heat A of the 2007 UK Championships was the first heat of the 2007 UK Championships held from the 28th-31st August at Hafan Y Mor Holliday Park in Wales, It was the first heat to determine which would be the first machine through to the finals later on in the week. The 3 competing robots fought out in battles in a league system to try and earn points to go through. The battles of the heat took part on the 28th August 2007.
Competitors
Edit
The following 3 robots are those that competed in the heat
Ka-Pow! Vs Tough As Nails
Edit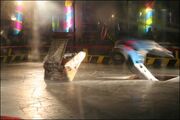 Ka-Pow! missed its first flip on Tough As Nails, and the dutch robot retaliated by grabbing Ka-Pow! from behind and shoving it into the pit release button. Unfortunatly, Tough As Nails died in the fight due to a loose connection and Ka-Pow! won by flipping the dutch robot into the pit.
Winner: Ka-Pow!
Tough As Nails Vs Turbulence (1)
Edit
Tough As Nails immediatly got behind Turbulence and grabbed it. After that, Tough As Nails repeated its signature move by pulling the reigning champion into the pit.
Winner: Tough As Nails
Ka-Pow! Vs Turbulence (1)
Edit
Both robots circled around each other to get their flippers under each other. Turbulence managed to get under Ka-Pow! and used its only flip of the fight to throw it over the fence and out.
Winner: Turbulence
Due to all robots having won a battle making it even, all three of the teams were asked to fight again to allow a winner to go through to the finals. Unfortunatly for some reason, Ka-Pow! couldn't take part in this fight so it was down to Turbulence and Tough As Nails
Tough As Nails Vs Turbulence (1)
Edit
Community content is available under
CC-BY-SA
unless otherwise noted.