Heat D of the 2011 UK Championships was the fourth heat of the 2011 UK Championships held from the 23rd-24th April at the Premiere Piazza space at the O2 Arena in London. The 4 competing robots fought out in one 4 way battle. The winner would go through, and the robot that came second would go to the losers melee. The heat was held on the 24th April.
Competing Robots
Edit
Behemoth
Weight: 98.6kg
Cost: £5000
Top Speed: 12mph
Armour: Titanium/Polycarbonate
Motors: Lemco LEM-130-95
Batteries: Custom A123
Weapons: Front Mounted Pneumatic Lifting Scoop
Team Members: Kane Aston, Anthony Pritchard, Edward Pritchard & Liz Pritchard
From: Hemel-Hempstead, Hertfordshire
Maelstrom (Seeded 4th)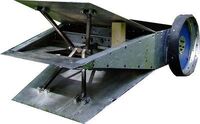 Weight: 100kg
Cost: £2500
Top Speed: 10mph
Armour: Aluminium & Hardox
Motors: 800w Litton Motors
Batteries: 3 x 24v Ni-mh Packs
Weapons: Very Unique Flipper
Team Members: Will Thomas, Ian Thomas, Lynn Thomas & Matt Thomas
From: Gravesend, Kent
Pressure
Weight: 100kg
Cost: £2000
Top Speed: 12mph
Armour: 1.6mm Stainless Steel
Motors: 2 x Bosch 750
Batteries: 2 x 24v, 4.5amp Ni-mh packs
Weapons: Very Unique Flipper
Team Members: Mike Hammilton-Macy & Erik Maartens
From: Marks-Tey, Essex
Weird mAlice
Weight: 100kg
Cost: £2000
Top Speed: 20mph
Armour: Hardox/Titanium/HDPE
Motors: 2off MY1060 @ 800w
Batteries: 4 Packs LiFe 26.4v 2400mAh
Weapons: Full Pressure CO2 Flipper
Team Members: Ian Humphrey, Mark Carndruff, Steve Catchpole & Sarah Humphrey
From: Isle of Sheppey
The Fight
Edit
Behemoth raced off and crashed into Weird mAlice and flipped it over into the corner where its flipper couldn't work so couldn't self-right. Pressure also turned Maelstrom over, but the 4th seed was unharmed as it runs either way up. Behemoth got flipped by Pressure onto Maelstrom who flipped the 2006 Winter Tour Champion near the arena wall where it couldn't self-right. Pressure then attacked Maelstrom flipping it on top of Behemoth but it rolled off, and Pressure also flipped Weird mAlice back onto its wheels allowing it to continue fighting again, but Maelstrom flipped them again nearly getting them out the arena. While Major Damage came in to attack Weird mAlice, Behemoth finally managed to self-right and join in the fight with Pressure and Maelstrom. After much flipping and bashing, Behemoth and Pressure got flipped over, Behemoth recovered but Pressure stayed where it was. Meanwhile, Major Damage paraded the hapless Weird mAlice around the arena before placing it on the arena flipper which threw it in the air before getting disposed of by the house robot out of the arena. Pressure finally got back on its wheels again and missed a flip on Behemoth and Maelstrom - who took a hammer blow from Major Damage. Behemoth finished the fight in the last 10 seconds as the strongest flipping Maelstrom against the arena wall and attacking Pressure, but Maelstrom was decided as the winner by the judge.
Heat D Winner : Maelstrom
Community content is available under
CC-BY-SA
unless otherwise noted.