Heat G of the 2011 Heavyweight UK Championships was seventh heat of the 2011 UK Championships held from the 23rd-24th April at the Premiere Piazza event space at the O2 Arena in London. The four competing robots fought it out in one four-way melee. The winner would go through and the robot that came second would go into the loser's melees. The heat was held on the 23rd April.
Competing Robots
Edit
The below robots participated in the heat
Chimera
Weight: 100kg
Cost: £800
Height: 65cm
Length: 120cm
Armour: Steel/Polycarbonate
Motors: Cim Motors
Batteries: 24v
Weapons: Propeller Cutter
Team Members: Colin Scott
From: York
Storm 2
Weight: 92.1kg
Cost: Classified
Top Speed: 25mph
Armour: Millitary Grade Titanium Plate
Motors: 2 x 8hp Bespoke LEM130
Batteries: 4 x 36v Lithium-Ion A123's
Weapons: Interchangeable
Other: 180bhp/tonne power to weight ratio
Team Members: Ed Hoppitt, Tim Bence & Meral Bence
From: Woodbridge
Thor (Seeded 7th)
Weight: 100kg
Cost: £5000
Top Speed: 22mph
Armour: Hardox & Ali blend
Motors: C4 Mag Motors
Batteries: Nicad
Weapons: Axe
Team Members: Jason Marston, Shane Swan & Liam Bryant
From: Northamptonshire
Tiberius 4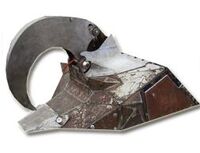 Weight: 95kg
Cost: £5000
Top Speed: 15mph
Armour: Hardox
Motors: Bosch 750 drives and Mag S28-400 for weapon pump
Batteries: 40 Lithium A123 Cells
Weapons: Hydraulic Crushing Claw
Other: Requires 2 drivers on seperate radio control sets
Team Members: Sam Smith & Grant Cooper
From: Brighton
The Fight
Edit
All robots were off as activate was called, Storm 2 targetted Chimera before taking an axe blow from Thor. Storm 2 fought back pushing it away but Thor landed another axe blow on top of Storm 2. Thor then chased Storm 2 into the claw of Tiberius 4 where it was pinned and Thor battered away on the top panel of Storm 2 but The Robot Wars World Champions armour stood up very well to the attacks. Storm 2 broke free but Thor chased down on Storm 2 again jamming it against Chimera and landed more hammer blows to the top of Storm 2, but again Storm 2 retaliated and broke free. Thor then battered the top of Chimera immobilising it before joining in with Tiberius 4 attacking Storm 2 with Tiberius 4 holding Storm 2 down and Thor hammering away on the top of Storm 2. Storm 2 broke away again and was chased by Tiberius 4, but Storm 2 fought back ramming Tiberius 4 into an already immobilised Chimera which flipped it onto its side. In the last 10 seconds of the fight, while Major Damage attacked Chimera, Thor and Tiberius 4 continued ganging up on Storm 2 until cease was called. The judge decided on agression, Thor was the winner.
Heat G Winner : Thor
Community content is available under
CC-BY-SA
unless otherwise noted.