Weird mAlice

Participation Information
Team Information
Team
Weird Alice
Team Members
Ian Humphrey, Sarah Humphrey, Mark Carndruff, Steve Catchpole
Other Entries
Dinah
Robot Statistics
Weight
100Kg
Top Speed
12mph
Power
2 x Electric motors running on 800 watts powering its 4-wheel drive. One for each side.
Weapons
Flipper

Robot statistics correct as of its most recent appearance on the show
Weird mAlice is a green and black box chassis shaped robot armed with a flipping arm. Originally called Weird Alice and armed with a pneumatic spike, it failed to qualify for theseventh series of Robot Wars before being completely rebuilt as a cuboid robot similar to the modern machine. Wird mAlice is a common entrant in the UK live events, although it rarely sees much success.
The team have also entered a feather-weight called Dinah.
2006 UK Heavyweight Championships
[
]
Weird Alice's first event as Weird mAlice was the 2006 UK Heavyweight Championships, where it fought in Heat K, losing overall to Big Nipper.
Televised Events
[
]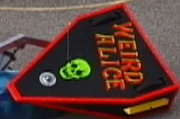 The team attempted to qualify for the forth wars of Robot Wars. The original Weird Alice was an invertible, triangular wedge shaped robot armed with a CO2 powered spike.However before their qualifier battle could begin they suffered radio reception issues that meant they had to pull out and ended up failing to qualify for the wars.
Honours
[
]
Robots Live! - Burgess-Hill 2010 Winner
Robots Live! - Team Champions 2010 with Team Tilly All-Stars
Robots Live! - Team Championships 2011 Runners-up with Team Tilly All-Stars
Robot Wars - Guildford 2013 Finalist
Trivia
[
]
The feather-weight is called Dinah, this was the name of the pet cat from Alice's adventures in Wonderland. Weird mAlice could also refer to the story with the Alice part.