The Winter Tour is one of the most notable events to competing roboteers held by Roaming Robots near the end of the year, it has been going on since 2004 which was when the last of Robot Wars was seen. The first 2 winter tours in 2004 and 2005 both played parts in hosting the Fighting Robots UK Championships 2004 & 2005, it continued for the next 3 years even though there was already seperate UK Championships for the robots in those years, although the last 3 events of the 2009 UK Championships have been known to be Winter Tour venues.
The Competition
Edit
The competition usually lasts from September to December at the end of every year. There are shows at different venues representing qualifier rounds where in each show and throughout the duration of the qualifier rounds, the robots fight it out in a league system and the top amount of robots (usually 12) get entry into the finals where the top point scorers fight it out in a tournament to declare who the Winter Tour Champion will be.
Point Scoring
Edit
Point scoring is based on the performance of the robot from their battles in the tour, the point system is as follows
3 Points for a win
2 Points for a second place (if match was a melee only)
1 Point for entering the arena
0 Points for not entering the arena
The winner is given a trophy to keep, a cheque and another trophy which will have the winners name engraved on it and the team must come back with it the next year and defend the title with it.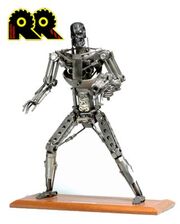 Venues for competition shows
Edit
Although Roaming Robots have looked for new places to visit every year, they have been known to visit venues they already have been to the previous years (ie Portsmouth, Doncaster, Maidstone etc..) which is usually due to the setting or rates from previous times. The tour also tends to get smaller and smaller too , cutting the amount of qualifier shows down after every 2 years, usually because of saving money, 2004-2005 had 4 qualifier shows, 2006-2007 had 3 qualifier shows & 2008-2009 had 2 qualifier shows.
Previous Winter Tour Champions
Edit
Below is a list of Winter Tour Champions from the previous years
Community content is available under
CC-BY-SA
unless otherwise noted.